Africa General Service Medal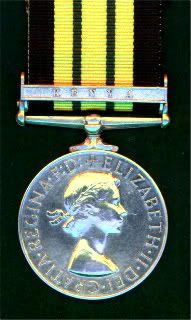 Africa GSM
Sanctioned in 1902 to replace the East & West Africa Medal, this was awarded to British & colonial forces for fifty-four years. Bearing the effigies of Edward VII, George V & Elizabeth II, it was not issued during the reign of George VI. A total of 45 clasps were awarded. Actions in Somaliland, North & South Nigeria, Gambia, Nyasaland and Kenya are covered by this medal, the final clasp issued – Kenya, being awarded after a gap of thirty-six years.
Some of the early actions were minor skirmishes and it's surprising that clasps for such encounters were authorised at all. Others, such as Somaliland & Kenya involved large numbers of personnel. The medal was also issued in bronze both with & without clasps - the clasps being North Nigeria 1903, Somaliland 1902-04 and Somaliland 1908-10.
The bronze issues are rare, as are medals awarded during the reign of George V. This medal was not issued to British units on the whole, the exception being for the Somaliland campaign between 1902 & 1904 and the campaign against Mau Mau insurgents in Kenya between 1952 & 1956. It was superseded by the General Service Medal 1962.