Burma Star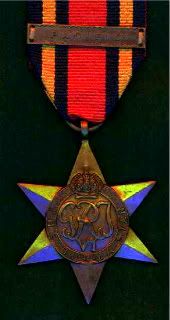 Burma Star
Awarded to British & Commonwealth forces for operational service in the Burma campaign from between 11 December 1941 & the Japanese surrender. Service in Bengal or Assam between 1 May 1942 & 31 December 1943 also counted; and again from 1 January onwards in certain areas of Bengal or Assam east of the Brahmaputra.
Naval personnel serving in the eastern Bay of Bengal and off the coasts of Sumatra & Malacca also qualified for the medal. Personnel who also qualified for the Pacific Star received the clasp 'Pacific' in lieu of the actual medal. The award of a clasp is denoted by a silver rosette when the ribbon alone is worn.
Hardship & danger are encountered in any theatre of operation. But the Burma campaign was particularly brutal, with troops enduring appalling conditions against an equally appalling enemy. If this medal represents anything, then it represents the bravery and endurance of the men of Bill Slim's 14th Army and those who endured brutal captivity by the despicable Japanese.