General Service Medal 1918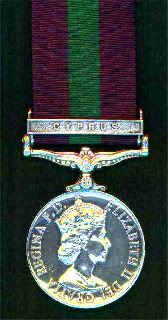 GSM 1918-1962
This medal was instituted in 1918 to cover actions that fell outside the spheres of the India & Africa General Service medals. It was issued to Army & RAF personnel - the Royal Navy having it's own General Service Medal. A total of 16 different clasps were awarded and these are as follows:
S Persia (1918-19)
Kurdistan (1919-23)
Iraq (1919-20)
NW Persia (1920)
Southern Desert Iraq (1928)
Northern Kurdistan (1932)
Palestine (1936-9)
SE Asia 1945-6
Bomb & Mine Clearance 1945-9
Bomb & Mine Clearance 1945-56
Palestine 1945-8
Malaya (1948-60)
Cyprus (1959)
Near East (1956)
Arabian Peninsula (1957-60)
Brunei (1962)
All clasps are quite common apart from Southern Desert Iraq, Northern Kurdistan and the Bomb & Mine Clearance clasps. This medal was superseded by the General Service Medal 1962.