Gulf Medal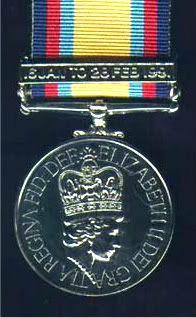 Gulf Medal
Instituted in 1992, over 45,000 of these medals were awarded to personnel involved in Operation GRANBY - the liberation of Kuwait following the Iraqi invasion. There are two qualifying periods: thirty day's continuous service between 2nd August 1990 & 7th March 1991; and seven days service between 16th January 1991 & 28th February 1991.
The former period is for logistic & support troops, whereas the latter period is for personnel directly involved in the 'Desert Storm' phase of the conflict between those dates. Two clasps were authorised:
2 AUG 1990
16 JAN - 28 FEB 1991
The former clasp is for liaison personnel attached to the Kuwaiti armed forces that were actually present when the invasion took place. These included the intelligence personnel who were flown in on the British Airways 747 that was caught on the ground at the airport and destroyed. These clasps are rare.
The latter clasp is self-explanatory. Support personnel on the island of Cyprus and anyone in-theatre that served before the 'Desert Storm' phase did not receive the clasp. Civilian contract staff attached to the Kuwaiti & Saudi armed forces also qualified, and medals can often be found named to employees of Marconi Defence Systems & British Aerospace, both with & without clasps.