Help:Copyright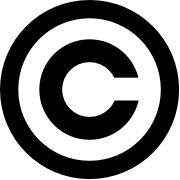 Copyright is a set of exclusive rights granted by governments to regulate the use of a particular expression of an idea or information. At its most general, it is literally "the right to copy" an original creation. In most cases, these rights are of limited duration. The symbol for copyright is ©.
Copyright may subsist in a wide range of creative, intellectual, or artistic forms or "works". These include poems, theses, plays, and other literary works, films, choreographic works (dances, ballets, etc, music, sound recordings, paintings, drawings, sculptures, photographs, software, radio and television broadcasts of live and other performances, and in some jurisdictions industrial designs. Copyright is a type of intellectual property.
Copyright law covers only the particular form or manner in which ideas or information have been manifested, the "form of material expression". It is not designed or intended to cover the actual idea, concepts, facts, styles, or techniques which may be embodied in or represented by the copyright work. Copyright law provides scope for satirical or interpretive works which themselves may be copyrighted.