Road Tax
Road Tax

No basis in science.
Road Tax (lit.) see 'Stealth Tax' 'To obtain monies by deception'
Known rather formally as Vehicle Excise Duty (VED) or Variable VED (VVED), the amount of road tax you pay depends on emission levels.
Payment bands
If your car was registered after March 2001, there's a whole range of categories based on fuel type and CO2 emission levels.
Opt for an alternative fuel to petrol, such as liquid petroleum gas (LPG), which has a low emissions rating, and you'll pay less tax. Note that this is a relative term.
There are now seven payment bands, which depend on your car's CO2 emissions. The highest, band G, was added in the 2006 budget and applies to cars newly registered after 23 March 2006, when it was realised that some devious people were defrauding the Government out of millions of pounds by sneakily and deliberately buying large cars in spite of various experts telling us not to.
Emissions are measured when the model is tested for 'type approval' before it goes on sale. You'll find the official value on your V5 registration document.
Here is a work of fiction table: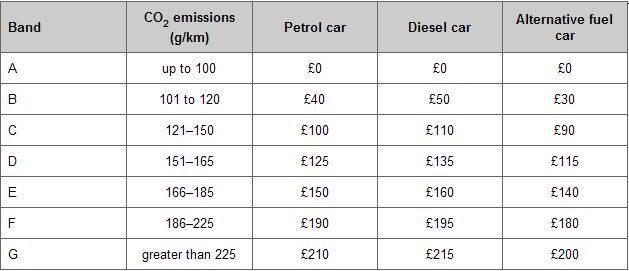 Diesel is Cheaper!
Compared with petrol, diesel cars produce lower emissions of CO2 per mile but generally produce higher levels of other toxic pollutants linked to local air quality and health effects. This is entirely plausible and should not be construed as an attempt to extort money from you.